Doubledecker train schedule
Quick facts about Doubledecker train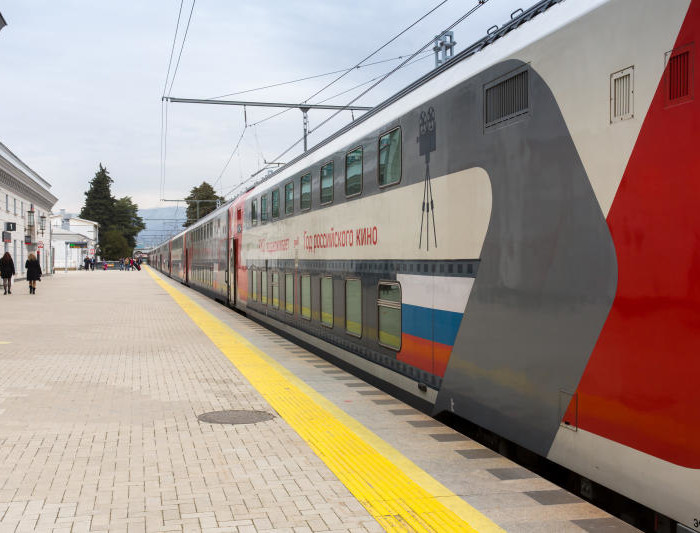 Doubledecker is a fast train and can reach the speed up to 160 km/h.
There is Wi-Fi zone all over the train.
One of the cars is adapted for people with disabilities.
Classes of cariages of the train Doubledecker
Second class
Second class also known as coupe carriage consists of 9 separate quardruple compartments with four bunks (2 lower and 2 upper), a fold-down table and a sliding door. Among other amenities are personal reading lights, storage space (built-in shelves over the door, boxes under the lower bunks, racks on the wall beside each bunk).
Show types of included services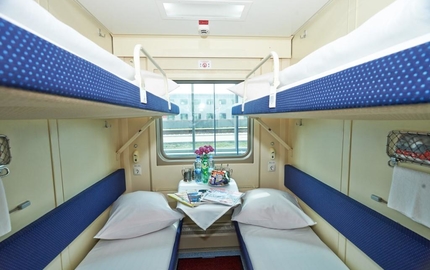 2nd class superior
A standard compartment in a superior carriage. Seats: 2 lower and 2 upper berths 70 cm wide. Berths arrangement (number): 2+2. Included service: meal, hygienic kit, printed press. Carriage: 8-10 compartments, a/c, bio toilets.
2nd class standard
A standard compartment. Seats: 2 lower and 2 upper berths 70 cm wide Berths arrangement (number): 2+2 Carriage: 8-10 compartments, a/c, bio toilets.
The first Russian two-story train was designed just before the Olympics in Sochi-2014. It started running along the Moscow - Adler line in November 2013. The second Russian double-decker train appeared on the route Mosow – Saint-Petersburg in 2015. Now there are 9 overnight double-decker trains operating on 7 popular routes. Most of the doubledeckers have only 2nd class compartments located on two decks. This solution allows to replace old-fashioned 3rd class (Platzcart) compartments with much more comfortable, modern and affordable option. All coaches have modern design and are equipped with an air conditioning system, LED lighting, heating and clean comfortable toilets. The access to the compartment is carried out by magnetic key cards, which allows passengers to be sure that their belongings are safe while they temporarily leave their compartment.
Doubledecker train reviews
Train number: 738А
Travel date: 02 Jul 2021
Eine schöne Zugfahrt mit sehr gutem Service
Train number: 738А
Travel date: 01 Jul 2021
Fantastisch
Train number: 006А
Travel date: 17 Mar 2020
La comodidad de las camas y que todo estaba bien distribuido para que estuviéramos cómodos.
Train number: 742А
Travel date: 19 Feb 2020
Like but they don't know English, it's difficult for me
Train number: 642Ж
Travel date: 16 Jan 2020
The Ataman Platov train was nice, clean inside and quite comfortable. In "lux" version, there are only 2 people in one compartment. TV was working (with choice of 3 channels), socket for phones near every bed. The bed itself was slightly hard, it couldn't get used to it and did not sleep well (maybe because it was my first trip by night train), but my wife did. Very good timing - the train arrived exactly as planned. The WiFi was not working in our car.