Travel the Golden Ring route by train
Perhaps the best way to get acquainted with the main landmarks of Russian history and to feel the unique Russian provincial way of life is a journey through the cities of the Golden Ring, located from the north-west of Moscow.
The Golden Ring of Russia is one of the most popular tourist routes. It includes Russian small cities and towns keeping unique historical and cultural monuments: Sergiev Posad, Pereyaslavl-Zalessky, Rostov, Yaroslavl, Kostroma, Ivanovo, Suzdal, Vladimir. These cities are worth seeing, and most of them can be reached by train.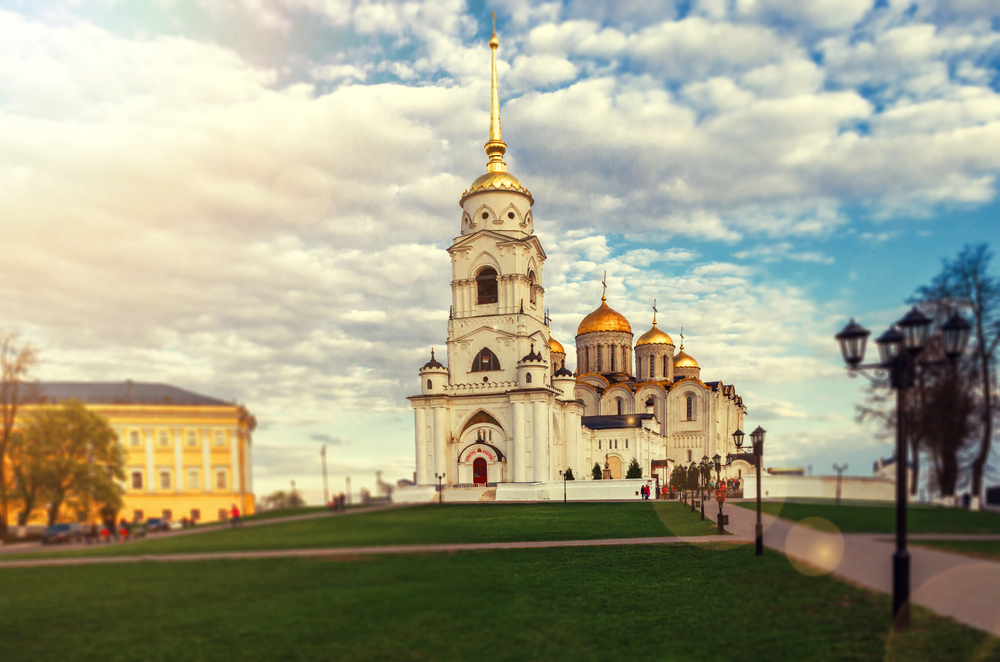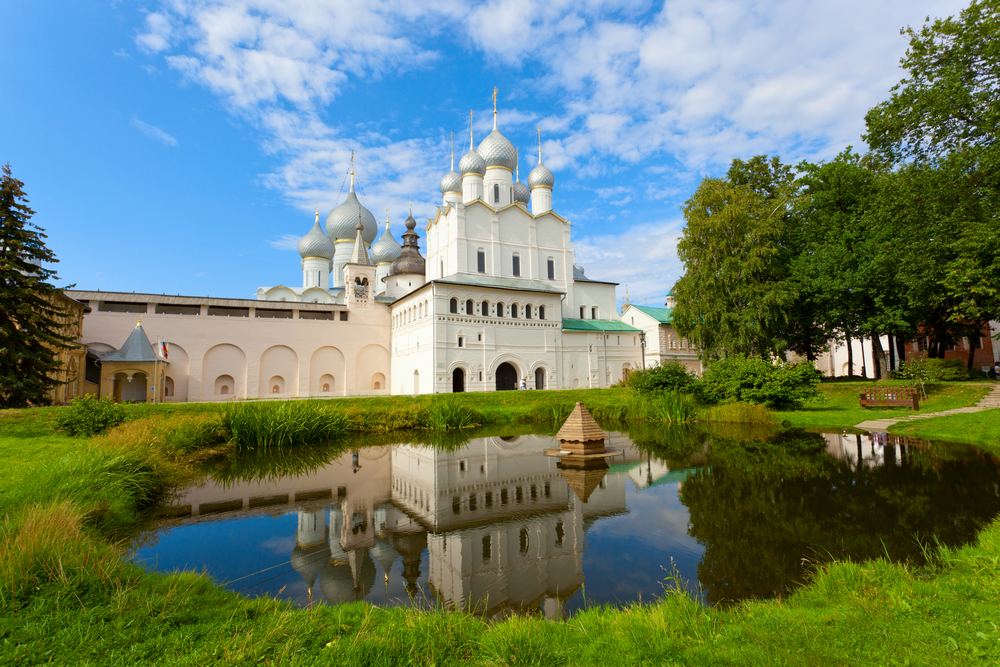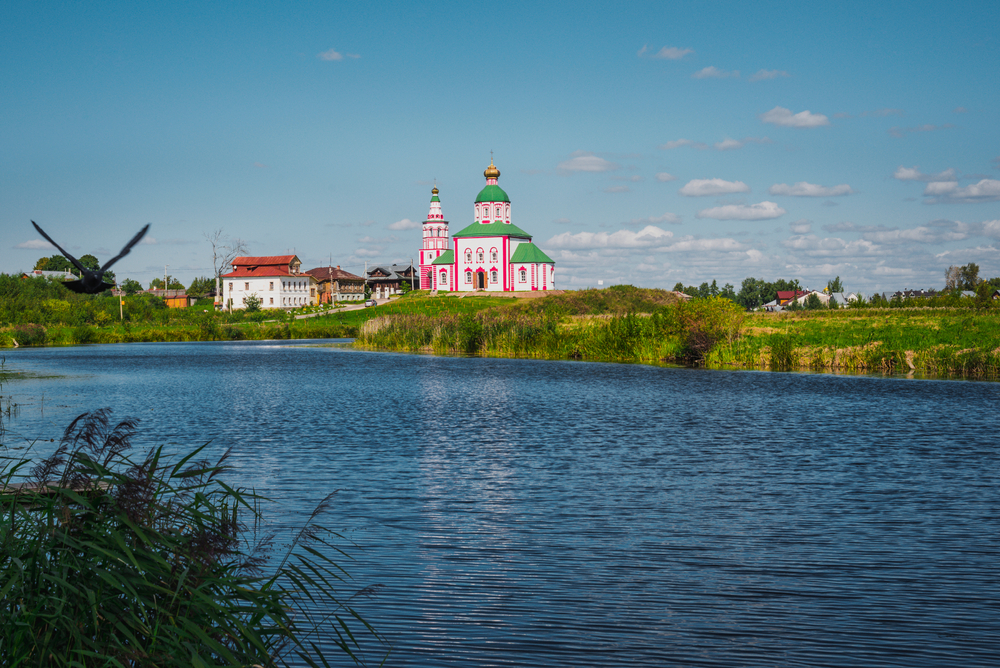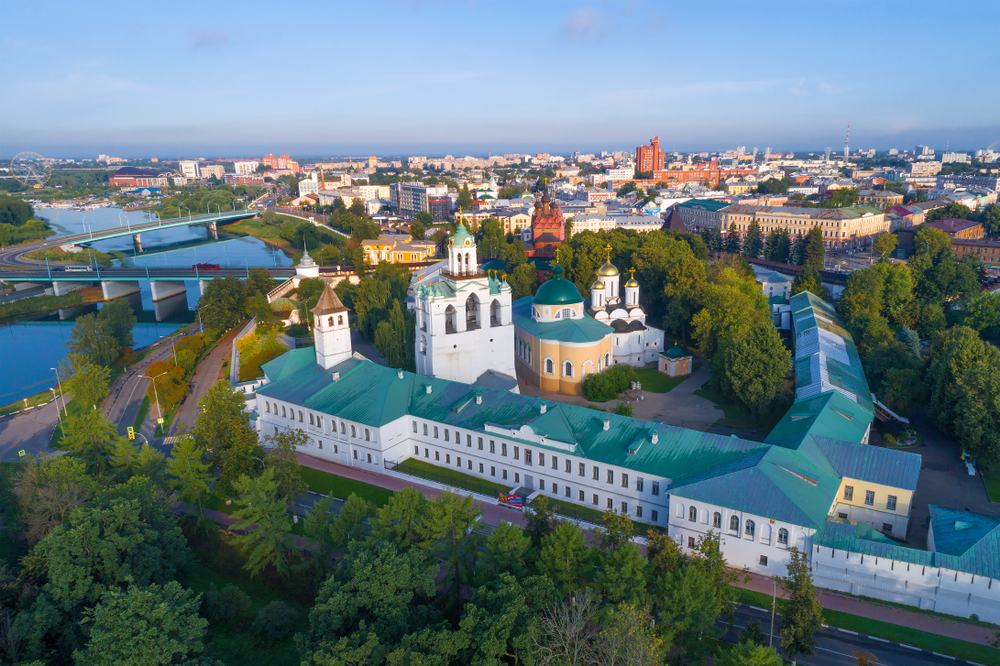 All trains from Moscow to the cities of the Golden Ring depart from Yaroslavsky train station. Some of them are suburban (so-called electrickas –electric commuter trains which are mostly used for short-distance travel between city and town), others are more comfortable sleeper trains (used also for long-distance journeys) which are suitable for overnight trips between the cities, and the most comfortable are modern express trains such as Lastocka and Strizh which can get you from one city to another in a couple of hours. Please, note that there are no train stations in Pereyaslavl-Zalessky and Suzdal. However, it is easy to get there by car or by bus from Moscow or other cities from the Golden Ring.
Vladimir
Vladimir is an ancient city with a rich centuries-old history, traditional architecture, and an absolutely unique atmosphere. What attracts attention most is the unique white-stone architecture, which is the object of UNESCO protection.
The route Moscow-Vladimir is the most popular one, so there are more than 20 trains a day between these cities. We recommend modern express trains "Lastochka" and "Strizh" to get from Moscow to Vladimir in less than 2 hours. Lastocka is a seating train, Strizh offers different classes of carriages – sleeper and seating, with or without a meal. Whichever category you choose, the trip will be comfortable and safe.
Sergiev Posad
Sergiev Posad (former Zagorsk) is the most popular city on the Golden Ring due to the pearl of Orthodox architecture located in it, the Trinity-Sergius Lavra, as well as its proximity to Moscow.
Most trains from Moscow to Sergiev Posad are so-called electrichkas (suburban trains), they run all day long. The tickets for such kinds of trains can be purchased only at the train station; travel time is about 1,5 hours. If you prefer to plan your trip you can book an electronic ticket for one of 3-4 regular trains between Moscow and Sergiev Posad, travel time is about 1 hour. No matter which kind of train you choose (or maybe you prefer a bus or a taxi), Sergiev Posad is the best town on the Colden Ring for a day trip from Moscow. We recommend it to visit if you happen to have a day off in Moscow.
Rostov
Rostov is a gem of the Golden Ring which attracts thousands of tourists and pilgrims.
Please, note: there are two cities in Russia named "Rostov" - Rostov in central Russia is often called "'Rostov Veliky", and another city is located in the south of Russia and called Rostov-on-Don. Thus you need a train station "Rostov Yaroslavsky" to get to the Rostov located in the Golden Ring.
There are 8-9 trains between Moscow and Rostov departing all day long. Travel time is 2,5-3 hours. Most of them have seating carriages which are the most suitable for such a short trip. We recommended the branded train named 'Yaroslavl – Moscow' as the most comfortable. It runs three times a day: in the morning, in the afternoon and in the evening. If you take the morning train you will arrive in Rostov at the beginning of the day and have plenty of time for a full-day guided tour to admire Rostov Kremlin and other monuments.
From Rostov you can also travel to Yaroslavl by one of the commuter trains running all day long, travel time is about 1 hour. Tickets for them can be purchased at the train station only.
Yaroslavl
Yaroslavl – recognized capital of the Golden Ring - is a beautiful ancient city on the Volga river. You can make a short day trip from Moscow or Rostov to the town of Yaroslavl to see its churches and feel the quiet beauty of the Russian province.
There are more than ten trains a day between Moscow and Yaroslavl. Travel time is about 3-4 hours. Many of the trains have seating carriages, the fastest of them are named "Yaroslavl – Moscow" (trains #102, #104, #106 in Yaroslavl direction and #101, #103, #105 in Moscow direction). You can use the morning train #102 to get from Moscow to Yaroslavl, spend day time seeing the sights of the city and get back by evening train #105.
Or you can continue your Golden Ring journey by taking a commuter train from Yaroslavl to Kostroma. Travel time is from 2 to 3 hours. There are plenty of them running all day long. However, those of them that can be booked online in advance are only three and have very early departures
Kostroma
Kostroma attracts tourists with its preserved appearance of the ancient Russian city, including numerous cultural monuments and historical sights.
There are two overnight trains a day between Moscow and Kostroma. Travel time is about 6-7 hours. The trains are quite comfortable, because you need only to spend a night there, and in the early morning you are already in Kostroma.
Ivanovo
Ivanovo is not the most popular city on the Golden Ring of Russia and is better known for its revolutionary history and textile industry.
There is one overnight train a day between Moscow and Ivanovo. Travel time is about 7 hours. The train #662 offers 1st class, 2nd class, 3rd class, and seating carriages. We recommend the 1st or 2nd class as they are most suitable for having a good rest during the overnight trip.
Also there are several express trains from Mosco to Ivanovo: such a trip by Lastocha train will take less than 4 hours.
You can check the timetable and select the most suitable train on our web-page.
Sample itineraries
If you want to have a full trip through the Golden Ring and visit most of the beautiful cities located there, we can offer you a guideline, which might be adjusted according to your plans. First, you take one of the trains from Moscow to Vladimir; then you have buses which take you from Vladimir to Suzdal and then from Suzdal to Ivanovo; after that, you are to take trains Ivanovo – Yaroslavl and Yaroslavl - Rostov; then again you have a bus to Pereyaslavl–Zalessky and Sergiev Posad, or train from Rostov to Sergiev Posad; from Sergiev Posad you can take a train back to Moscow. As you may notice, this route if for really advanced travelers.
If you prefer a trip which includes only traveling by train, we recommend include Rostov and Yaroslavl in your 1-day itinerary: Moscow – Rostov – Yaroslavl - Moscow. Early in the morning, a seating train will get you from Moscow to Rostov in 2,5 hours. After the city sightseeing in Rostov, a day train will deliver you to Yaroslavl in just one hour. And in the evening you can take a comfortable train back to Moscow arriving there in about 3 hours.
The sample itinerary will look like as follows:
07:35 Departure from Moscow by express seating train #102
10:17 Arrival to Rostov, Sightseeing
13:46 Departure from Rostov by train #016M
14:46 Arrival to Yaroslavl, Sightseeing
19:43 Departure to Moscow
23:05 Arrival to Moscow.
After sightseeing in Yaroslavl, instead of returning to Moscow, you can continue your trip to other towns. In this case, you will have to make at least one hotel overnight.
We will show you two possible ways to continue your journey from Yaroslavl: either add a day in Kostroma or Ivanovo and Vladimir.
Extention Option #1 (add a day in Kostroma):
21:03 Departure from Yaroslavl to Kostroma by train #095
22:41 Arrival to Kostroma, Overnight at hotel
Next day -sightseeing in Kostroma
23:41 Departure from Kostroma to Moscow by the sleeper train #147
05:43 Arrival to Moscow
Extention Option #2 (add a day in Ivanovo and Vladimir):
Overnight at hotel in Yaroslavl
08:29 Departure to Ivanovo by train 347 /337
11:22 Arrival to Ivanovo, short sightseeing
13:36 Departure from Ivanovo by express seating train #838
15:15 Arrival to Vladimir, Sightseeing
20:16 Departure to Moscow by express seating train #733
22:10 Arrival to Moscow
If it is not all sites that you want to see, you can add more cities to your itinerary because there are many buses between the towns of the Golden Ring. Each of the towns is a classic example of Russian life and culture, and if you want to learn more about Russia, you must visit at least one of them. Believe us - you will not be disappointed!